Past Events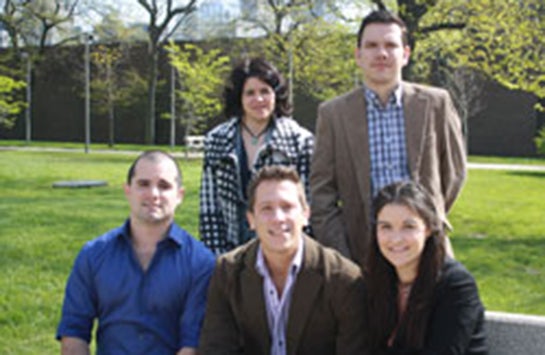 The second Biennial Graduate Conference in Hispanic Literary and Cultural Studies was held on April 13 and 14, 2012 and examined the theme "Transits/Transition/Revolution." Presentations looked at the current era of transition in which anti-establishment sentiment has tumbled dictatorships and continues to question the status quo. While these cultural changes span the globe, the conference papers focused on moments of transition, transit and revolution in Peninsular, Latin American and Latino culture and literature.
Twenty-four papers were presented by graduate students from UIC, Marquette University, University of British Columbia, University of Wisconsin-Madison, New York University, Texas A&M University, University of Chicago, University of California-Davis, University of Miami, University of Notre Dame, University of North Carolina, University of Iowa, University of Wisconsin-Milwaukee and UIUC. Papers addressed the topics of "Politics," "Transits," "Film," "Urban Space," "the Image of Otherness," "Performance" and "Representation" as well as the work of Salvadoran writer and activist Horacio Castellanos Moya, who on Friday presented a keynote on "La narrative latinoamericana actual: nuevas situaciones, viejos problemas." On Saturday, "The (Queer) Space of the Vampire: Materiality and Disappearance in the Films of Ivan Zulueta" was presented by keynote speaker Bradley S. Epps of Harvard University.
Six graduate students in the HLCS program served as this year's organizing committee conducting abstract selection, event planning and communications as well as presenting papers and moderating several of the panels. Their academic interests and investigations reflect the many paths literary and cultural studies research can take.
Cristina Codina and Yanire Marquez are in the MA program.
Codina's academic interest focuses on Cuban and Argentinean contemporary literature and poetry of the exile. As a poet, she is influenced by her Cuban roots, her Spanish heritage and the years she lived in Barcelona, Spain. She notes that her "poetic voice is characterized by a feeling of alienation and the passionate embrace of both cultures that blend together as one."
Marquez is focusing on peninsular literary and cultural studies, examining in particular the representation of women in literary works. A native of Spain, she earned her undergraduate degree in English Studies from the University of Deusto, Bilbao.
Andres Aluma, Xabier Granja, Raul D. Gutierrez and Idoia Martínez del Mozo are all PhD students.
Aluma's current research focuses on the formation of new identities and the creation of new, migrant or provisional communities in various parts of Latin America and United States, as well as the manifestations of new types of poverty and the further displacement of traditionally-underprivileged sectors as a consequence of the economic globalization that is reflected in artistic expressions produced in Latin America since the 1990s.
Granja's interests are focused on the study of Spanish literature of the early modern period through a gender studies perspective. His dissertation deals with masculine identities in the Spanish society of the golden age; he conducts a contrastive analysis of the literary and sociopolitical motivations and implications of masculine identity-formation by both male and female writers of the period.
Gutierrez's dissertation project deals with the representation of the transnational family in literature, film and photography. He is interested in literary and cultural production, particularly the comparative analysis between competing border narratives produced by Mexican writers and Mexican American writers. He also looks at the representation of the uses of violence in drug cartels and government forces from both Mexico and the United States through new media and film, especially horror films.
del Mozo's dissertation focuses on the representation of women in treaties written between the 15th and 17th centuries in Spain. She is exploring the virtues and roles assigned to women in marriage, maternity, domestic economy, politics and education in treaties and conduct manuals of the early modern period. She is also interested in the unstable concept of the female characters in several medieval and golden age writers and contemporary Latin American, Latina and Spanish women writers.
"The conference, attended by approximately 30 scholars, was a great success," said Granja. "The presentations were engaging and of very high academic level. This event provides us with the opportunity to strengthen our academic relations with graduate students from many other universities."
"It was the first time I organized a conference at the graduate level and with our busy graduate-student and teaching-assistant lives, taking care of such an important event was time consuming," added Marquez. "Nevertheless, the time and effort were absolutely worth it. The good reviews received from our professors and the participants are encouraging us to consider organizing the conference every year!"