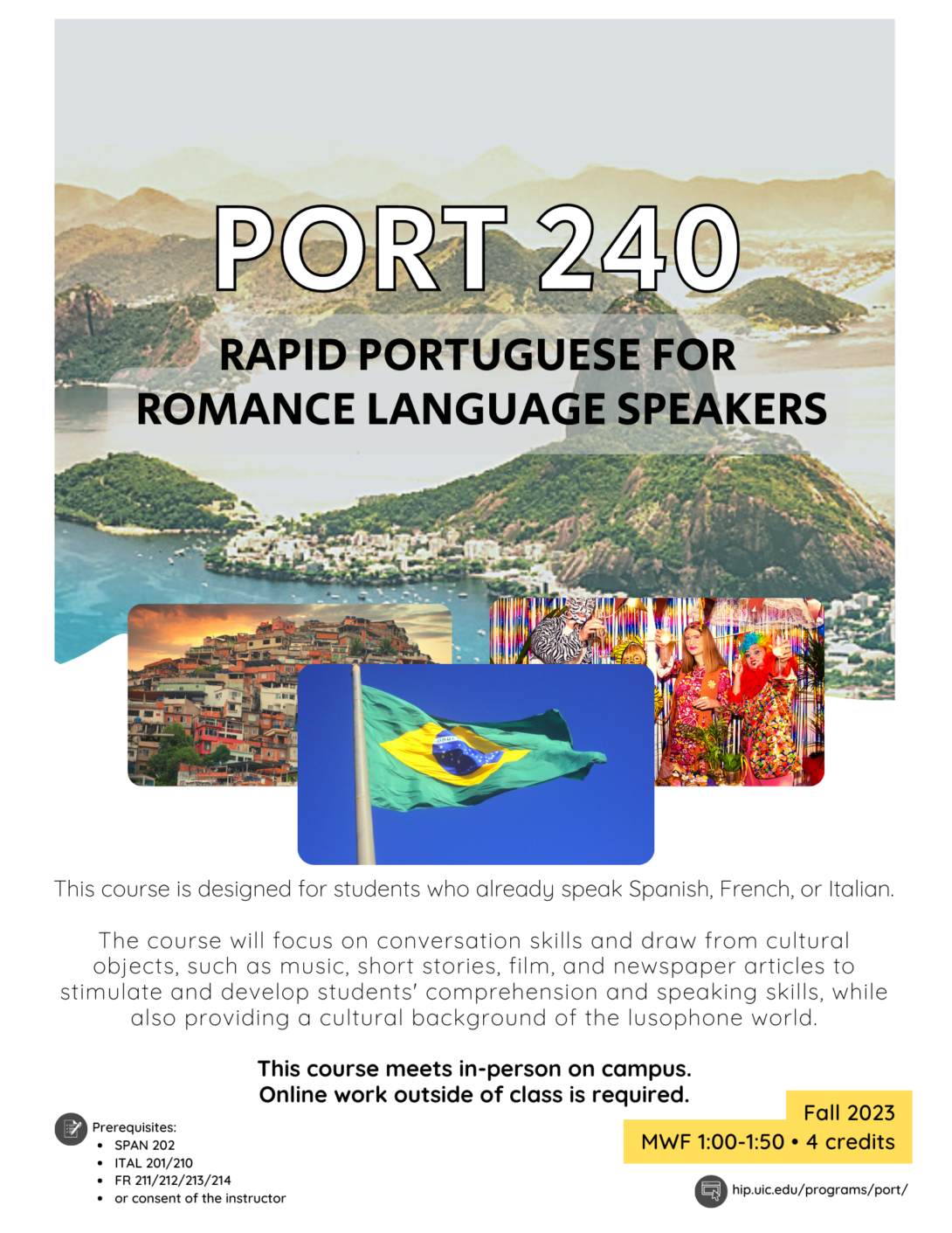 We're excited to offer Portuguese 240 (Rapid Portuguese for Romance Language Speakers) in Fall 2023!
This course is designed for students who already speak Spanish, French, or Italian.
The course will focus on conversation skills and draw from cultural objects, such as music, short stories, film, and newspaper articles to stimulate and develop students' comprehension and speaking skills, while also providing a cultural background of the lusophone world.
Meets in-person on campus. Online work outside of class is required.
MWF 1-1:50 • 4 credits
Prerequisites:
SPAN 202
ITAL 201/210
FR 211/212/213/214
or consent of the instructor
Learning Brazilian Portuguese is a great investment in your career and it is also fun!
Portuguese is the 5th most spoken language in the world, with an estimated 262 million speakers worldwide. This number is expected to increase to 433 million by 2050, and is the fastest-growing European language after English.
Portuguese is spoken as an official language on five continents, including five countries in Africa.
Portuguese is spoken by about 34% of the population in the Latin America, as Brazil is the largest and most populous country in the region.
It is the 3rd most used language in social media.
Many American and International companies do business or have operations in Brazil. Check out a list of some of them on the Brazil-U.S Council website.
São Paulo is the business capital of Latin America.
Rio de Janeiro is the host of the 2016 Summer Olympic Games, and it is one of the most visited places in the world.
Brazil has beautiful beaches, mountains and cities.
The country hosts thousands of business and cultural events, as well as regional celebrations throughout the country, including the biggest carnaval celebration in the world.
Chicago hosts events about Brazilian culture throughout the year.