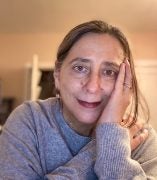 Margarita Saona, PhD
Professor
Hispanic and Italian Studies
Pronouns: She/Her/Hers
hours
Drop-In Hours and Classes - Spring 2022
Sunday
Monday
Tuesday
02:00pm – 03:15pm
SPAN/GWS/LALS 192
03:30pm – 04:45pm
SPAN 377
Wednesday
Thursday
10:00am – 12:00pm
Drop-In Hours (on Zoom) - other times by appoint.
02:00pm – 03:15pm
SPAN/GWS/LALS 192
03:30pm – 04:45pm
SPAN 377
Friday
Saturday
About
Professor Margarita Saona studied linguistics and literature at Pontificia Universidad Católica del Peru. She received a Ph.D. in Latin American literature from Columbia University in New York. She is head of the department of Hispanic and Italian Studies at the University of Illinois. She is interested in issues of gender, memory, cognition, empathy, and representation in literature and the arts. She has published numerous articles, two books on literary and cultural criticism, Novelas familiares: Figuraciones de la nación en la novela latinoamericana contemporánea (Rosario, 2004) and Memory Matters in Transitional Perú (Londres, 2014), two books of short fiction, Comehoras (Lima, 2008) and Objeto perdido (Lima, 2012), and a book of poems, Corazón de hojalata/Tin Heart (Chicago, 2017). She is currently working on two projects, one on the representation of masculinity in Peruvian literature and culture and another one on patients' narratives from a medical humanities perspective.
Selected Publications
Books
Despadre: La masculinidades, travestismo y ficciones de la ley en la literatura peruana. Editorial Gafas Moradas. Forthcoming.
Memory Matters in Transitional Peru. Memory Studies Series, Palgrave MacMillan: London, 2014.
Novelas Familiares: Figuraciones de la nación en la novela latinoamericana contemporánea. Rosario, Argentina: Beatriz Viterbo Editora, 2004.
Articles
"Touching Pain: The Matrixial Experience of Trauma in Works by Doris Salcedo." Gender, Transitional Justice and Memorial Arts. Global Perspectives on Commemoration and Mobilisation. Ed. Jelke Boesten and Helen Scanlon. Routledge. London: Routledge. May, 2021.
"Touching the Trace of the Real: Haptic and Metonymic Images of Exhumed Objects in the Construction of Collective Memory." Les Cahiers Sirice. Special issue: Material traces of mass death: the exhumed object. (2017)
"Maternidad y paranoia en el estado autoritario: Leyendo a Eltit desde Schreber". Perífrasis. Vol. 3, No 6.
"Melancolía y epifanía en Borges". Variaciones. Borges. Nº 25, April 2008. pp.156-173.
"Pierced Tongues: Language and Violence in Carmen Boullosa's Dystopia." Body and Violence: Race, Gender, and the State. Ed. Arturo Aldama. Bloomington: Indiana University Press, 2003.
Fiction
La ciudad en que no estás: Cuentos reunidos. Ediciones Cocodrilo, 2021
Corazón de hojalata/Tin Heart. Chicago: Pandora Lobo Estepario, 2017.
Service to Community
Assistant in Self-Defense programs with Thousand Waves, Martial Arts and Self-Defense NFP
Poetry readings by Poesía en Abril
Notable Honors
1999-2000 and 2006-2007, Faculty Fellow, Institute for the Humanities
2017, Luces award for best book of poetry in Peru, El Comercio newspaper
2004 and 2011, Teaching recognition by the Council for Excellence in Teaching and Learning, UIC Office of the Provost and Vice Chancellor for Academic Affairs
Education
Columbia University, Ph.D.
Columbia University, M.Phil.
Pontificia Universidad Católica del Perú, Licenciatura
Pontificia Universidad Católica del Perú, B.A.
Research Currently in Progress
Corazón en trance (non-fiction): multi-genre, autobiographical account of heart transplantation from a patient's point of view.
Artistic and Professional Performances and Exhibits