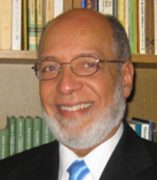 Rafael Núñez-Cedeño, PhD
Professor Emeritus
Hispanic and Italian Studies
About
Co-editor, Probus: International Journal of Latin and Romance Linguistics (a Mouton de Gruyter Publication, Germany)
Associate Editor, Signos Lingüísticos, Universidad Autónoma Metropolitana, México.
Comité Evaluador Científico, Miríada Hispánica, University of Virginia-Valencia.
Major Interests
Spanish phonology, morphology, dialectology, and the development of Spanish phonology.
Selected Publications
Books
Chapters in books
Articles
Notable Honors
1979, Premio Siboney del Ensayo for La fonología moderna y el español de Santo Domingo.,
1993 , Premio Nacional Pedro Henríquez Ureña for Morfología de la sufijación española,
2010, Day Dedication and Street Name Designation, XIII Feria Internacional del Libro
December 18, 2011, 100 prominent Dominicans living abroad, Dominican Republic Government
Education
PhD, University of Minnesota
Professional Memberships
Correspondent Member of Academia de la Lengua Española de la Rep. Dominicana, 2003- present.
Member Academia de Ciencias de R. Dominicana, 1994-present.