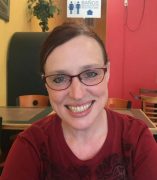 Stephanie Muñoz-Navarro
Lecturer
Hispanic and Italian Studies
Contact
Address:
601 S. Morgan St.
Email:
About
I have been teaching Spanish at UIC for the past ten years, and my passion for the language and for teaching is strong as ever. Spanish is such a beautiful language and a wonderful vehicle that has connected me with so many other cultures: people, places, cuisines, music, literature, and much more.
I did not grow up speaking Spanish, nor did I learn it as a young adult. Rather, when I went back to school in my thirties, I decided to study the language and ended up falling so much in love with it that I made it my career. I am proof that you can learn a language at any time in life!
I am also a part-time ESL instructor. This complements my work at UIC beautifully. Many of my students are from Spanish-speaking countries, and I gain invaluable insight into their culture(s) as we learn together. I have many passions that include cooking, gardening, rescuing animals, and always learning new things.