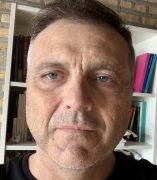 Luis López, PhD
Professor
Hispanic and Italian Studies
Pronouns: He/Him/His
Contact
Address:
601 S. Morgan St.
Office Phone:
Email:
CV Download:
About
Professor López's main interest is general linguistic theory with special concentrations on syntax, morphology and information structure. For the last few years he has focused on the study of code-switching and bilingual linguistic structure more generally. He also maintains a secondary interest in the connection between linguistic theory, philosophy of language and the law. Professor López has been the recipient of fellowships from the Alexander von Humboldt Foundation, the Fulbright Commission and NWO (Dutch Research Council).
Selected Publications
"Did Charles Bronston commit perjury? A study in discourse semantics." International Journal of Language and Law 10: 1-23. 2021
"Algún quantifier is not bound by adverbs of quantification." Isogloss 7(1): 1-26. 2021
Bilingual grammar. Toward an integrated model. Cambridge University Press. 2020
Reviewed by Michael Putnam for Heritage Language Journal 17(3): 438-443.
"Acquisition without evidence: English infinitives and poverty of stimulus in adult second language acquisition." Second Language Research 36: 415-443. With Jeanne Heil (University of Southern Maine). 2020
"Case, concord and the emergence of default." Languages 12, 5 (1-42). 2020
"Thurstone's law and acceptability judgments: examining the adjacency condition in Spanish/English code-switched sentences." With Carmen Parafita (Leiden), Hans Stadthagen (first author, Southern Mississippi) and Alejandro Párraga (UAB). Linguistic Approaches to Bilingualism 8(1): 67-97. 2018
"Case and the event structure of nominalizations" Linguistic Inquiry 49(1): 85-121. 2018
Education
PhD Linguistics. Cornell University. 1995
BA in Filología. Universitat de Barcelona. 1988