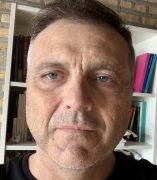 Luis López, PhD
Professor
Hispanic and Italian Studies
Contact
Office Phone:
Email:
About
Professor López's main interest is general linguistic theory with special concentrations on syntax, morphology and information structure. For the last few years he has focused on the study of code-switching.
Professor López has been the recipient of fellowships from the Alexander von Humboldt Foundation and the Fulbright Commission.
He is the director of the Bilingualism Research Laboratory.
Selected Publications
There are some downloadable papers on Prof. López's Academia.edu page, including a draft of Bilingual grammar: an integrated approach, forthcoming with Cambridge University Press.
Books
Recent Articles and Book Chapters
Forth.     "Acquisition without evidence: English infinitives." Second Language Research. With Jeanne Heil (University of Southern Maine).
Forth.     "Contact linguistics: The I-language of a bilingual." Chapter to appear in a volume edited by Sergio Baauw, Luisa Meroni and Frank Drijkoningen, series Current Issues in Linguistic Theory, John Benjamins.
2018     "Thurstone's law and acceptability judgments: examining the adjacency condition in Spanish/English code-switched sentences." With Carmen Parafita (Leiden), Hans Stadthagen (first author, Southern Mississippi) and Alejandro Párraga (UAB). Linguistic Approaches to Bilingualism 8(1): 67-97.
2018     "Case and the event structure of nominalizations" Linguistic Inquiry 49(1): 85-121.
2018     "Shifting animacy: non-binary options." A commentary on De Hoop and Swart's 'Shifting Animacy.' Theoretical Linguistics 44(1-2): 41-46.
2017     "Obliteration after vocabulary insertion." In K. Bellamy, M. Child, P. González, A. Muntendam, & M. C. Parafita Couto (Eds.), Multidisciplinary Approaches to Bilingualism in the Hispanic and Lusophone World. Amsterdam: John Benjamins. With Daniel Vergara. Pp 261-282.
2017     "Code switching by phase." With Artemis Alexiadou (Humboldt University Berlin) and Tonjes Veenstra (Leipzig-ZAS). Languages 2(9) 1-17. doi:10.3390/languages2030009