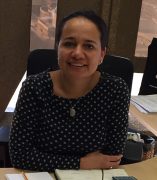 Claudia Fernández, PhD
Clinical Assistant Professor of Spanish and Director of the Spanish Basic Language Program
Hispanic and Italian Studies
Pronouns: She/Her/Hers
Contact
Address:
601 S. Morgan St.
Office Phone:
Email:
Office Hours and Courses - Fall 2021
LCSL 502 – Thursday 3:30-6:00
Office Hours by appointment
About
Claudia Fernández is Clinical Assistant Professor of Spanish and Director of the Spanish Basic Language Program. Her research focuses on how languages are learned in the classroom, in particular task-based language teaching, materials development, and the acquisition of grammar. She very much enjoys teaching Spanish, particularly to beginner students.
Selected Publications
Edited Book
Fernández, C. & Berwick, A. (in progress). Materials Development and Use: Theory and Practice.
Textbook
Corpas, J., García, E., Garmendia, A., Soriano, C., & Fernández, C. (2020). Aula abierta. Pearson-Difusión.
Book
Fernández, C. (2016). Input destacado y la adquisición de la gramática (Input enhancement and the acquisition of grammar). Editorial Arco/Libros, S.L., Spain.
Articles in Refereed Journals
Fernández, C. (2016). Effectively addressing forces that resist positive changes to improve language learning. The Language Educator, 11, 50-52.
Fernández, C. (2011). Approaches to Grammar Instruction in Teaching Materials: A study in Current L2 Beginning-level Spanish Textbooks. Hispania, 94, 155-170.
Fernández, C. (2008). Re-examining the role of explicit information in processing instruction. Studies in Second Language Acquisition, 30, 277-305.
Refereed Book Chapters
Fernández, C. (in press). Trials-to-criterion as a methodological option to measure language processing. In M. Leeser, G. Keating & W. Wong (Eds.) Research on input processing and processing instruction: Studies in honor of Bill VanPatten. John Benjamins.
Fernández, C. (2011). Four L2 Learning Objectives to Guide Podcast Design. In Facer, B. R. & M'hammed, A. (Eds.), Academic Podcasting and Mobile Assisted Language Learning: Applications and Outcomes (pp. 21-36). Hershey, PA: IGI Global.
Fernández, C. (2008). Persistence in foreign language study: An investigation on learners' beliefs. In J. Siskin (Ed.). AAUSC 2007 Volume From Thought to Action: Exploring Beliefs and Outcomes in the Foreign Language Program (pp.135-154). Boston: Thompson Heinle.
Williams, J. & Fernández, C. (2005). The role of interaction in input enhancement. In C. Gascoigne (Ed.), Assessing the impact of input enhancement in Second Language Education (pp.107-127). Stillwater, OK: New Forums Press.
VanPatten, B. & Fernández, C. (2003). The long-term effects of processing instruction. In B. VanPatten (Ed.), Processing instruction: Theory, research and commentary (pp. 273-289). Mahwah, NJ: Erlbaum.
Education
2000-2005 Ph.D., Spanish Linguistics-Second Language Acquisition University of Illinois-Chicago Dissertation: The effects of explicit information on learners' processing: Evidence from a PI study. Thesis Director: Bill VanPatten