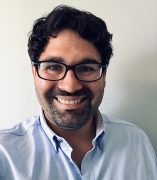 Keith Budner, PhD
Assistant Professor
Hispanic and Italian Studies
Contact
Office Phone:
Email:
hours
Drop-In Hours - Spring 2022
| | | |
| --- | --- | --- |
| Sunday | | |
| Monday | | |
| Tuesday | 03:30pm – 05:30pm | |
| Wednesday | | |
| Thursday | | |
| Friday | | |
| Saturday | | |
About
Keith Budner specializes in the literature and culture of late medieval and early modern Spain, which he situates in a comparative framework alongside Latin, Hebrew, Classical Greek and Italian. He comes to UIC after a year at Berlin's Freie Universität, and prior to that lived in the Bay Area and Madrid. He has published on the role of Classical myth and Renaissance painting in Cervantes's Don Quijote and how late medieval romances responded to the "Morisco Question." His first book project, Classicism and Convivencia: How Sephardic and Judeoconverso Humanists Invented Spain, argues that the cultural revival of the Roman colony of Hispania enabled new modes of national belonging, creating communities and identities no longer defined by blood lineage but instead centered on shared intellectual activity and literary production. Keith also leads an ongoing Digital Humanities project on the "Printer-Scholars" of the early modern world and is exploring new interests in cartography, ancient to early modern, and the history of boardgames.
Selected Publications
"How Does a Moorish Prince Become a Roman Caesar? Fictions and Forgeries, Emperors and Others from the Spanish "Flores" Romances to the Lead Books of Granada" in Medieval Sicily, al-Andalus and the Maghrib: Writing in Times of Turmoil (Nicola Carpentieri and Carol Symes, Eds.) Amsterdam: Arc Humanities Press & The Medieval Globe Books (2020).
"Classical Confusion: Myths, Paintings and Other Windows into Don Quijote's Erotic Life" in Seeing Spanish: From Don Quixote to Daddy Yankee—22 Essays on Hispanic Visual Cultures (Ryan Prout and Tilmann Altenberg, Eds.) Newcastle upon Tyne: Cambridge Scholars Publishing (2011)
"Forging Modernity: Vulcan and the Iron Age in Cervantes, Ovid and Vico" in Ovid and the Age of Cervantes. (Frederick de Armas, Ed.) Toronto: University of Toronto Press (2010)
Education
PhD, Comparative Literature, University of California at Berkeley, 2019