Participate
We are glad to have you on board! We hope you find this research as exciting as we do! Prospective participants can find information about research being done and sign up to participate through this page.
How do I sign up to Participate?
You can sign up to participate or request more information by e-mailing the lab. You can also call us at: (312) 996-2278
How is my participation helpful?
Our research provides insights into how people learn and process language. Your participation helps us get a detailed look at how the brain works to understand language. This information can be used to help improve second language instruction, to learn more about how different speakers and learners process language, to provide insight into how various conditions (medical or learning) affect language processing, and much more. Your participation makes our research possible!
What will the experiment be like?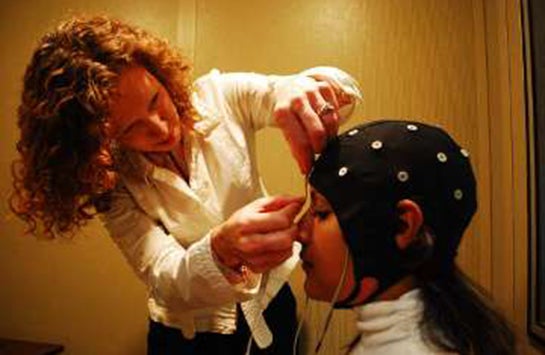 For many experiments, you will be asked to provide us with information about your language learning background and will then complete some language and/or memory related tasks. It is very helpful if you are well rested and arrive on time. We also suggest that you bring a caffeinated drink with you.
For ERP studies, we will collect EEG data while you are here. EEG recording is a non-invasive procedure. We will place a special cap with electrodes on your head. The application of the cap requires that a special gel be applied to spots on your scalp. There may be some slight discomfort when there the sensors make contact with the skin, but there should not be any pain involved. If at any time you feel uncomfortable, you should notify the researcher.
After the EEG data collection, we will provide shampoo, conditioner, and a towel so that you can wash your hair before leaving, if desired. If you have any special hair care needs, please bring those products with you. Or, you may prefer to bring a baseball cap or hat.
Where do I go?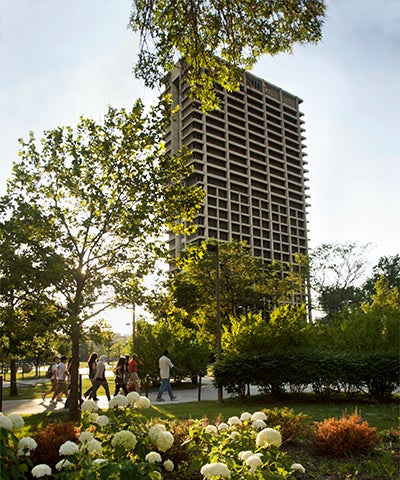 Our research takes place in 1704 University Hall at UIC. The street address is 601 S. Morgan, Chicago IL 60607.
University Hall is located at Morgan and Harrison Street on the north end of East Campus. To get to our lab, take the elevators by the café in University Hall to the 17th floor and come to room 1704.
Campus maps and directions are available on the UIC website.