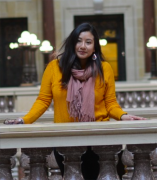 Meloddye L. Carpio Ríos
PhD candidate
Hispanic and Italian Studies
Pronouns: she/her/hers/ella
About
Graduate student of Hispanic Literary and Cultural Studies at the University of Illinois, Chicago with a concentration in Gender and Women's Studies. Received her MA in Latin American Literatures from the University of California, Davis in 2015 and BA in Spanish Language and Literatures from California State Polytechnic University, Pomona in 2013. Her research interests include language teaching, Latin American literatures and cultures, digital humanities, transnational and decolonial transfeminisms, visual arts and gender studies.
Research Currently in Progress
Dissertation: Of Affects, Processes and Excesses: Unruly Masculinities in Contemporary Peruvian Visual Arts
Dissertation director: Margarita Saona
Informed by an intersectional, feminist and decolonial framework, this project focuses on representations of male and masculine gendered bodies, spaces, emotions, temporalities, and practices in Peruvian literature and in the visual arts that question conventional assumptions about masculinity and open up new modes of understanding who is, who can be and what constitutes ser un hombre peruano.