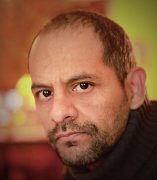 José Ángel Navejas
PhD candidate
Hispanic and Italian Studies
Contact
Email:
Related Sites:
About
José Ángel Navejas is the author of Illegal: Reflections of an Undocumented Immigrant, an autobiographical work that has been widely adopted as reading requirement in universities throughout the United States for courses ranging from literature to Latino studies and sociology. In 2019, the Spanish version of Illegal became the first book translated by the University of Illinois Press in its 100-year history. Among other distinctions, Illegal has been chosen by the Illinois Program for Research in the Humanities for its Illinois Reads Program (2018), the Freshmen Common Read at Cal-State, East Bay (2016-17), and the Moraine Valley Community College One Book One College program (2015). José Ángel has spoken on the plight of the undocumented at venues such as the Chicago Humanities Festival (2015), City of Asylum Pittsburgh (2017), as well as before academic audiences. He was Scholar in Residence at Monmouth College (2014), delivered the Dean's Diversity Lecture at the University of Illinois Urbana-Champaign (2017), and has been invited to speak at the University of Notre Dame (2019), Princeton (2018), Northwestern (2014-2015), and the University of Chicago (2015), among many others. In addition to Illegal, José Ángel has edited Palabras migrantes: 10 ensayistas mexican@s de Chicago (2018). He is also the author of Invierno (2019) and Un mojado en Chicago y tres discursos inaugurales (forthcoming in 2020).
Selected Publications
"La ausencia del mar en la literatura mexicana" (Hispanic Journal, forthcoming spring 2021)
Notable Honors
2019-2020, IUPLR/UIC Mellon Fellowship, Inter-University Program for Latino Research
2019, José Revuletas Award for Literature, Pilsen Fest Chicago
2016, Illegal chosen as Freshman Common Read, Cal State, East Bay
2014, Scholar in Residence, Monmouth College
Education
2020 PhD Hispanic Studies, University of Illinois at Chicago
2004 M.A. Hispanic Studies, University of Illinois at Chicago
2002 B.A. Philosophy, University of Illinois at Chicago
2000 A.A. General Education, Moraine Valley Community College
Selected Presentations
2019
"The Border: An-Interdisciplinary Examination." Chapman University.
"Ciudad Ñ: Escritores Hispanohablantes en Chicago," III Congreso Internacional Antonio Cornejo Polar: Lima, Perú (via Skype).
Book reading, University of Notre Dame, April 2.
2018
Illinois Program for Research in the Humanities Reads, the University of Illinois at Urbana-Champaign.
"Resisting Silence: The Narrative of an Undocumented Mexican Immigrant" Illinois State University, Normal, Illinois, November 28.
City of Asylum at Alphabet City. Pittsburgh, Pennsylvania, January 15.
2017
Dean's Distinguished Lecture, the University of Illinois, Urbana-Champaign.
Mexican, Mexican-American, Immigrant: Three Literatures." Lit and Luz Festival. Seminary Co-Op Bookstore, Chicago.
2016
The Chicago Humanities Festival, "Cultura in Pilsen." Chicago, November 8.
"Uncharted Territory: Narratives on Latino Migration." Skokie Public Library.
Book reading. Fox Cities Book Festival. Appleton, Wisconsin.
2015
Book reading. Evanston Public Library.
"Mexican Studies Seminar." Katz Center for Mexican Studies. The University of Chicago
Research Currently in Progress
José Ángel is currently completing a dissertation on a group of Spanish-language Latin American writers in Chicago.